Alberta is rich with talent and energy. AAG wants to focus that energy on building a future of healthy aging and a better quality of life for Albertans. Some of the initiatives happening across our province are:
Healthy Aging Initiatives
Community engagement with older adults by groups across the province.
Energy and work to coordinate a seniors' facing sector.
Enhancing support for informal caregivers.
Preparing the workforce with skills and expertise to be effective partners in care.
Community-based research identifying expectations for change from older adults.
Research about workforce needs, issues, and urgency for change.
Plans for change beginning in a range of government departments.
Paying Tribute to Care Workers
As part of our initiatives, AAG salutes front-line service providers and support staff. These individuals provide exemplary services across all settings during the pandemic.
We acknowledge the organizational leaders giving their best through seemingly never-ending challenges. We recognize the perseverance and losses experienced by older adults, family, and friends. Together, we can create the conviction to move forward!
Optimism and Opportunity
Together, we will move Alberta forward to a post-COVID environment. We have a unique opportunity to achieve healthy aging supported by public policy, as:
We build on our strengths.
We act on Alberta's report to transform not only the continuing care system, but also, the way we think and serve in a broader new system.
We aim for a new vision for healthy aging and a better quality of life as we age!
A Continuing Care Review Report
In May 2021, Alberta Health released a report that they had commissioned from MNP LLP (a Canadian consulting firm). MNP created the Facility-Based Continuing Care Review Report, entitled:
Improving Quality of Life for Residents in Facility-Based Continuing Care: Alberta Facility-Based Continuing Care Review Recommendations: Final Report. This report articulates a 'Healthy Aging Vision for Alberta' (from page 114 of the report):
"Albertans are supported to be healthy and active in their community, with an improved quality of life, and they are engaged, empowered, and enabled to live in inclusive communities with social connectedness and healthcare access."
The report specifically recommends three tiers of policies and services to achieve this vision (description and image from page 115 of the report):
Tier 1: For Individuals with Minimal Health Care Needs
Tier 2: For Individuals with Moderate to Complex Care Needs (Living at Home or in the Community)
Tier 3: For Individuals with Highest Care Needs Living in Facility-Based Continuing Care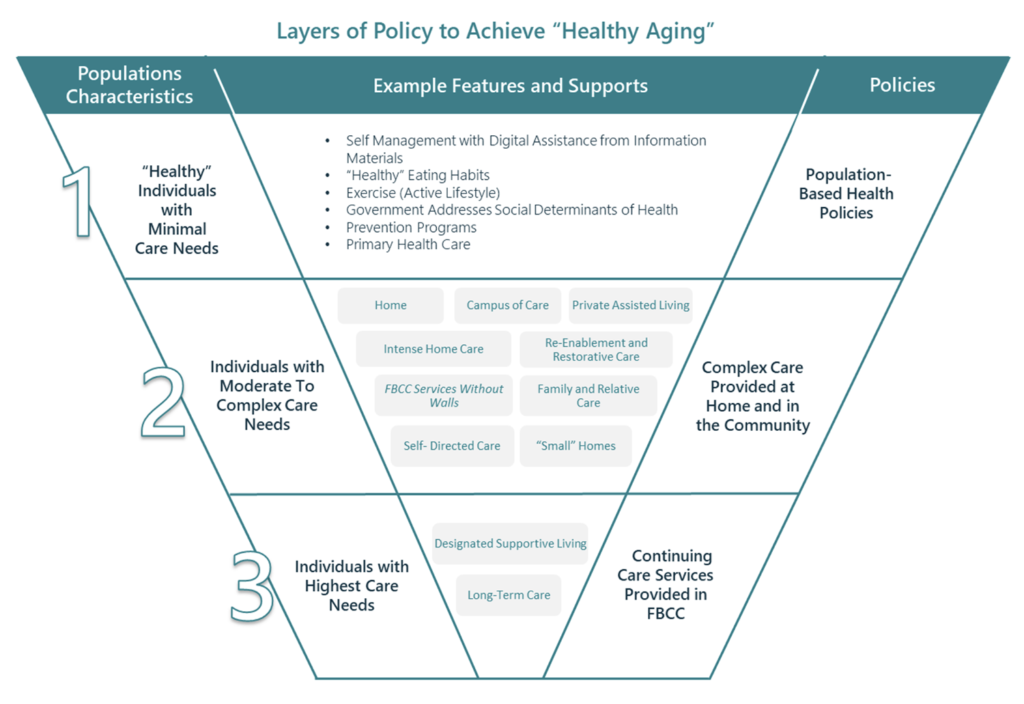 Futures Policy Forum Initiative
AAG's Futures Policy Forum Initiative aims to explore these policy tiers.
We will discuss barriers for implementation and options for change. Ultimately, AAG aims to mobilize a culture and community for change among stakeholders. We seek to build support and sustain the changes required.
We will work toward a broad understanding of needs and opportunities. We will create action plans and policy. Our recommendations must foster the vision we desire.
---
The topic of the next webinar: Valuing Care and Caregivers. Stay tuned for more details about this upcoming webinar on Wednesday, January 18th, 2023.